Outlet Cord Reels Twin-kle 2 Standalone
Cord reels with outlets for convenient access to power.
Reel box that the combinations can be customizable as per customers' request.
On this page we are only introducing the single unit (standalone) Twin-kle 2 air hose reels.
Even as a standalone product, Twin-kle 2 has a unique design that allows changing the internal reel, and is a freely configurable and expandable combination style reel.
For details please also see the Twin-kle 2 page.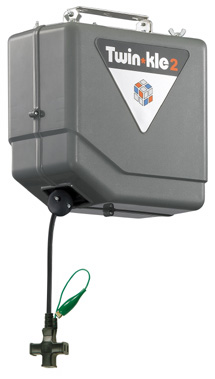 Product

Twin-Kle2 Outlet Cord Reel

100V/220V-10.0M

Model

TR2-C

Features

Compact and light weight, ideal for space restricted installations.
Wall or ceiling mount.
Reels come complete with inlet cord and ball stop.
Redesigned steel ratchet and gears for long life.
Solid brass axel.
Flexible, oil and water resintant cord.
Specifications
Twin-kle 2 (standalone)
Model
Cord
Power Rating
(Voltage
/ Current)
Inlet Cord
Body Weight
(kg)
Cord Type
Cord Thickness
(mm2)
No. of Conductor
Length
(m)
Outlet
Plug
Connection
Length
(m)*1
With Case
Internal
Reel Only
TR2-C
PSE
1.25
3
10
outlet
w/ ground
clip
AC125V/ 6A
AC250V/ 6A
Plug (w/ ground clip)
0.5
7.1
4.7
*1 For the TR2, the primary joint hose/cord length is indicated as the length extending out from the external case.
| | |
| --- | --- |
| Dimensions | |
| | |
Notes:
• Read the manual thoroughly and use it properly.
• The actual product color may differ.
• Product specifications are subject to change for improvements without notice.
• These products are for indoor use only.